Double Hair: Color & Volume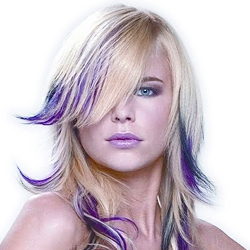 Always striving to improve our extension products for the hairdressers market, Balmain has now extended the most successful DoubleHair range with DoubleHair for Color & Volume. Color with hair!
Color instant color effects
Traditional coloring techniques do not offer the same flexibility as Balmain's latest innovation. DoubleHair® gives any hairstyle an instant change. Update your look to match the fashion by adding hair.
100% Human hair!
DoubleHair® is handknotted and colored to achieve a fine DoubleHair® of high quality 100% human hair in color combinations.
Guarantee: re-usable for 6 months
DoubleHair® is easy to apply and what's more, it can be re-applied 2 to 3 times! DoubleHair® is re-usable for at least 6 months in combination with Balmain hair care.
Steps and Colors
DoubleHair combines 2 application systems: the revolutionary DoubleHair technique and the positioning clip technique. Choose permanent using our Plusbonds, DoubleHair will stay attached for 4-6 weeks or just clip it in for a day, an evening or to try out a new color.

Test/Daily application:
1. Make a parting in the hair
2. Click the positioning clip open
3. Place the DoubleHair on the lower part of the parting
4. Close the positioning clips

Permanent application (4-6 wks)
1. Make a parting in the hair; remove the positioning clips
2. Place the DoubleHair on the parting, flip back the top part and pullsome hair through all 3 open cells, starting from the middle
3. Secure with Plusbonds, using the Plug & Play connector.