Education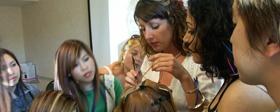 Beauty West Services offers weekly Hair Extension Certification seminars. Taught by Balmain Paris & Crisace certified educators, the workshops assists professionals in understanding the latest fashion: Hair Extensions.
BWS also offers education in Colour, Facials, and haircutting in addition to our Hair Extension Certification program. Workshops can be given to groups of any size, from one stylist and on. Free workshops are given to valued customers quarterly to keep them abreast of the industry.
Featured Course
Goal: Become a master in Balmain's single-strand system
Product: Fill-in ® Extensions, DoubleHair ®, and Ready2Go "Cold Contact System"
Description: Learn to apply Balmain's & Crisace premier re-usable extension system: the only reusable system backed up by a six month guarantee. During this interactive course you will learn how to apply, remove, and reuse Fill-in ® Extensions. You will learn to apply a full-head of extensions in just 35 minutes with DoubleHair ®. You will also learn to apply a full-head of extensions in just 25 minutes with Ready2go cold fusion ("tape system") In addition, you will be offered an introduction into client consultation, haircare, styling and cutting techniques, and marketing.
For more information regarding Hair Extension workshops: Contact Us.
Quick Links: Download an One Day Workshop Education Registration Form
2012 Education Dates
JAN
2 San Jose
9 Santa Barbara
16 Los Angeles
23 Sacramento
30 San Jose
FEB
6 Los Angeles
13 San Diego
20 San Francisco
27 San Jose
MARCH
5 Santa Barbara
12 Sacramento
19 San Diego
26 Los Angeles
APRIL
2 San Francisco
9 San Jose
16 Los Angeles
23 NO CLASS
30 San Jose
MAY
7 San Jose
14 NO CLASS
21 San Francisco
28 Sacramento
JUNE 4 San Diego
11 Santa Barbara
18 NO CLASS
25 Los Angeles
JULY
2 San Jose
9 Santa Barbara
16 Los Angeles
23 Sacramento
30 San Jose
AUG
6 Los Angeles
13 San Diego
20 San Francisco
27 San Jose
SEP
3 Santa Barbara
10 Sacramento
17 San Diego
24 Los Angeles
OCT
1 San Francisco
8 San Jose
15 Los Angeles
22 Sacramento
29 San Jose
NOV
5 San Francisco
12 San Jose
19 Los Angeles
26 NO CLASS
DEC
3 San Diego
10 Santa Barbara
17 Los Angeles
24 NO CLASS
31 NO CLASS